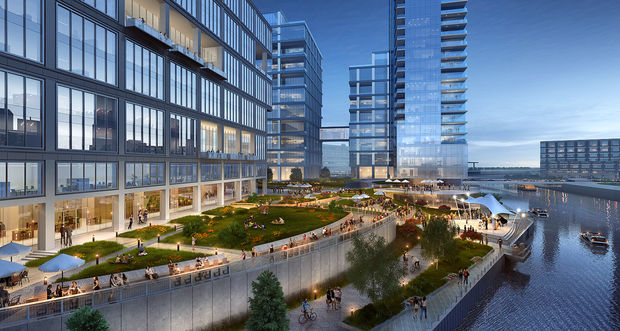 Tribune Media, together with its partner Riverside Investment and Development, has announced plans to redevelop the site of the media giant's riverfront printing press, acting on available property for sale. Called the "River District", the site is envisioned to be the city's first innovation district, with industry, commercial, and residential areas. This is in response to the burgeoning tech scene in Chicago, given Google office on West Loop, UI Lab's office on Goose Island and Chicago gunning to be the site of Amazon's HQ2.
The project calls for about 18 buildings where people and companies can buy real estate, spanning 9 million square feet. The company is starting off with four buildings, that will include at least 1.2 million square feet of office space and a 610-feet residential tower that will house 310 apartment units. This is just a small start for the projected 5,900 new homes in the area.
Once the project is built, it will generate 19,000 permanent jobs and $1.1 billion property taxes over the next 20 years.
Stay updated for more news on the new Riverside neighborhood.